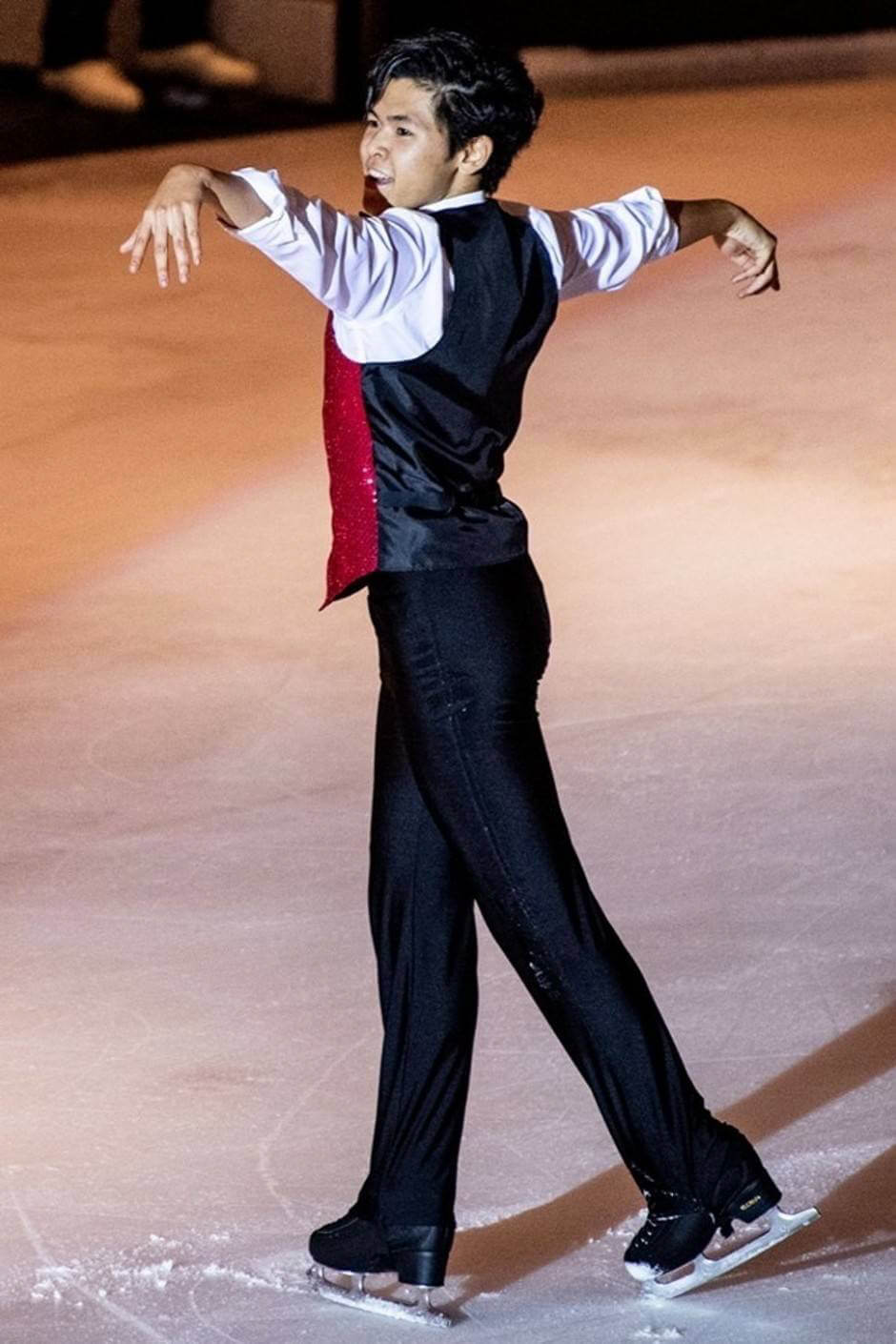 Hong Kong figure skating whizz Harrison Jon-yen Wong is used to warming up alongside the world's top-ranked skaters by now. The 21-year-old – who impressed at last week's 2020 ISU Four Continents Figure Skating Championship in South Korea – would take exclusive mental notes as he watched the likes of Japanese superstar Yuzuru Hanyu work their magic up-close.
Iklan – Artikel dilanjutkan di bawah
Hanyu, a two-time Olympic gold medallist, went on to win the tournament and was customarily showered with Winnie the Pooh stuffed toys by adoring fans. An unsurprising outcome considering some have nicknamed Four Continents the "Hanyu competition".
Iklan – Artikel dilanjutkan di bawah Despite the seemingly intense domain of elite-level athletes vying for international silverware, Wong said the sport has become more inclusive than ever. "It was really great to meet Yuzuru Hanyu. This was my third time I've seen him so the fact that he's this great skating god is a little bit blown," Wong said. "It was really good to see how he trains, skates and composes himself during this type of competition. Everyone was extremely focused and, most of all, they are all really nice and respectful people.
Iklan – Artikel dilanjutkan di bawah
"When you're going to do a jump or spin, they won't take up your space but try to give everyone else space to train. It's not as competitive as people think it is. We're still competing, but it's not really that cutthroat competition you think of like Tonya Harding and Nancy Kerrigan type of stuff," he joked. Wong, who was born in Stamford, Connecticut, to Hong Kong parents, kept
composed in front of a rapturous crowd to secure an impressive 22nd-place finish. The former Hong Kong national champion and junior Asian champion's performance lifted him world number 90 in the official men's rankings.
A post shared by Harrison Jon Yen Wong⿈軍駱 (@harrisonjonyen) on Feb 9, 2020 at 3:32pm PST  "It was the best experience I've had at the Four Continents and the best performance I've done," he said. "I did my personal best in the short programme which made me really happy. I could have done a lot better in my long but I was satisfied overall." Alongside fellow Hong Kong skater Kahlen Cheung Cheuk-ka and renowned coach Craig Heath, Wong expressed his pride in the team's strong performance having trained tirelessly between Hong Kong and Heath's
school in Sun Valley, Idaho.
Former US national champion Heath has been teaching in the city since 2005. He has helped guide the likes of world No 1 Nathan Chen and US prodigy Alysa Liu through the ranks and was delighted that his Hong Kong students delivered a professional performance to open the 2020 season. "This is a really big competition – it's not easy to get into," Heath said, adding that skaters must reach a certain national score to be eligible to participate. "It's a big deal, there are cameras swinging around and it's very professional. Kahlen and Harrison are two of my top students. The fact that both got to go was an amazing honour for me. "Harrison went out there and did great – the best he could considering he has a lot on his plate. He's a really hard worker and gets up to skate before school every day. It's not easy. He learned that he can go out there and not be 100 per cent and still do a really good job." By "a lot on his plate", Heath was alluding to Wong being slap-bang in his final year at the University of California, Los Angeles (UCLA). The senior described sacrificing several collegiate rites of passage to strike the right balance between competitions and assignments.
"I'm graduating this summer so I'm very close," he said. "The only thing I've really had to sacrifice is my social life. I don't really have time to go out and party with friends since I'm either studying or training. But it's nothing that really affects me much. What has been hard is that this is my last year to get work done since the course load is getting much greater. I have to spend more time studying than skating." While he may be trading blades for books for the time being, Wong's stellar performances have earned a strong backing from the Hong Kong Skating Union (HKSU) and Hong Kong Sports Institute (HKSI).
Hong Kong has six rinks with talks of building two more. Meanwhile, figure skating has ascended the HKSI's funding tiers. Heath commended the city's attempts at sustaining the sport and called the figure skating scene "1,000 percent completely different" to when he first set foot in Hong Kong over a decade ago. For Wong, the pressures come in all directions; be it cramming for final-year
exams, flying between the US and coronavirus-stricken Hong Kong, or living up to his city's expectations when representing the national team. He hopes his achievements can reach more young skaters as the countdown to the 2022 Winter Olympics in Beijing has already begun.
Hong Kong does not have a concrete spot at the Games and must qualify through the Nebelhorn Trophy in Germany under the HKSU's tutelage. Wong has reached the competition once so far and there is no stopping him in doing so in future. "I feel most young skaters trying to get up to that level feel the pressure from people's expectations around them. That's sometimes too much for
them that they quit and say 'figure skating is a terrible sport'," he said. "As my parents say, I've been very stubborn so even when people say that, I would just say I like skating a lot and kept going. I've worked hard to get to where I am today. That's my stubbornness, the pain and hardship I put on myself."