Ladies and Gentlemen, I'm back from vacation and introducing a new segment I'd like to call "Six Questions for a Skater" – which I hope to make a regular feature.
I'm so excited to present my first skater, Craig Heath.
To me, he is one of the best examples of what it means to be a show skater. 17 years in the business and counting. Over two dozen titles, three dozen awards and show engagements, and much, much more. For his impressive (and exhaustive) resume, you've got to check out his website craigheath.com. But I'm going to wimp out right here and let Scott Williams do the talking.
"Craig is one of the top Professional Skaters in the world today. He has attained what very few in any field ever do…mastery of his profession. His fantastic skating talents, combined with a unique and entertaining style make him a joy to watch and an inspiration to all. He is a pleasure to work with and he has one of the best work ethics I've ever seen. To me, Craig defines what it means to be a top-level professional ice skater." Scott Williams, Professional Ice Skater, Producer and Past President of the Professional Figure Skaters Cooperative
The only time I ever saw Craig skate live was during the American Open competition in 1997 where he and about five other brave souls took on Brian Boitano's challenge for a game of Add-On.
Add-On is a game skaters play where the first skater does a trick and the second skater has to do that trick plus add on their own, and the third skater does the first two tricks and then adds on a third trick and so on and so on.
Guess who won the challenge? His win has always stayed in my feeble mind, which says something right there, and that is why I asked for an interview.
He has been performing and teaching in Sun Valley, Idaho for the past 14 years. He claims it's hard work during the summers but also a dream job that he is honored to have. There's a great facility with a gorgeous outdoor rink, the best in the world as far as he's concerned. There is also a very nice indoor rink. The summer school offers loads of ice time and also many great classes. Craig teaches a class every morning, either "Spin to Win", "Jump to Win" or "Sk8 Tricks." Every Saturday night, June – Labor Day, there is a world class ice show with top headliners like Even Lysacek, Brian Boitano and Sasha Cohen. Craig says, "Skating in these shows has been a highlight of my professional career."
Meanwhile, Miss Ice Charades has always said, just vacationing in Sun Valley would be the highlight of her life!
During the winters, for the past five years, Craig has been performing and teaching in Hong Kong for Swire Properties. He says he can take full advantage of all the incredible things Hong Kong and other places close by have to offer. He has some very fun and talented skaters which helps him keep in shape for shows he performs in over the holidays.
So, I suggest that if you are anywhere near Hong Kong or Sun Valley, Idaho and want to improve your skating, check out his seminars.
Better yet, fly him to your skating club and he could teach a bunch of skaters at once!
So without further ado, on to my six questions …
#1 … Did you have a favorite skating number?
This is a hard question! I have done so many numbers that I have loved performing over the years that it is hard to choose. The ones that stick out the most are: "Come What May" from the Holiday on Ice show called 'Hollywood' that I performed in for 4 years all over Europe and Asia. Robin Cousins choreographed the show along with Cindy Stuart and Anthony Van Laast was the Director. This number was so meaningful to me in many ways. I could not wait to perform it night after night.

"Perhaps" by the group Cake was another favorite. Brian Wright choreographed it and it was brilliant. I still use it sometimes. I originally used it as a short program for pro competitions and then I used it for shows. It was so Brian and so sarcastic and fun.

The most recent one is "Save a Horse..Ride a Cowboy" that Gia Guddat choreographed. Another sarcastic and fun routine that I love to perform. When Gia first asked me to do this one I said "no way..I can't skate to that!" But then she convinced me and we came up with a really fun number that I have performed in Sun Valley, Idaho and Hong Kong.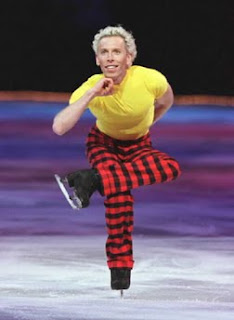 And, I know this is more than 3, but I will never forget my Seven years performing the rolls of Andy and Sid in Feld Entertainments 'Disney on Ice – Toy Story.' I got to play the good boy Andy and skate to "You've Got a Friend in Me" and "The Boys Are Back in Town" and also the bad boy Sid where I did a famous countdown of 10 double Axels in a row for many performances all over the world.
Okay boys and girls let's stop here for a moment. Ten double axels! In a row! When you can do that, you too can beat Brian Boitano in a game of Add-On.
#2 … You're known for your superior spinning. Were you always a natural or was there a technique you mastered?
The spinning thing started when I was a kid but escalated when I had a bad knee injury and could not jump very much…but I could spin!! I made a good thing out of a bad situation. When I was a kid I skated in a small rink and on lots of crowded public sessions so I would spin a lot. I also have to give a lot of credit to Frank Carroll who nurtured my spins and even created some for me that many other people started doing and still do to this day. Before I would compete he would always tell me to "Spin like a bat out of hell."
#3 … Do you ever have skating dreams? And I'm not talking wishes here.
I don't often remember my dreams but I have had the recurring one where I'm late for a competition or show and I can't get my costume and skates on and then I'm so far away from the ice and I'm racing for the ice because I hear my music but I can't make it there.

Out of all the thousands of shows I have done, I only missed one cue and it was in the opening number for Dorothy Hamill's Ice Capades. I told myself it would never happen again (I was only a few seconds late) and it never did.
#4 … Have you ever had groupies?
Yes, every show has groupies. It is part of the territory. Nothing really that crazy has happened to me. At a theme park in Florida one groupie would sit in the front row of every show (we had 5 shows a day) and scream at me to do a triple. They've given me gifts (I love gifts so this is a good thing). I've also had them walk into my locker room acting like they thought it was an exit. Strange.
#5 … What would you do if you didn't skate?
I have always had a fantasy of having an office and working for a big company. Of course I would have my own corner office with a view and a balcony. I think the reason for this is because since I started skating I have always had to take care of myself and my body. I'm always needing to stay in shape and getting enough rest. My job never stops even when I'm on vacation. This can be a good thing and a bad thing. It will be nice someday to be able to totally relax, not that I ever will as I'm pretty Type A, OCD, ADD and every other letter in the alphabet. :-). I can't even sit down to watch TV and I rarely go to the movies. I would rather do something than watch other people do things on a screen.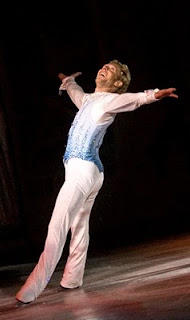 #6 … Would you like to see the game of Add-On in the Olympics (a personal wish of mine). If so, how can we get that done?
That would be an amazing event for the Olympics! I know the Olympic Committee is working to get a team event into a future Olympics so this is a good start.
Did you hear that Aaron? There could be a game of Add-On coming soon to a games near you!
At the American Open that game was so much fun. I loved it! We all had a great time playing in front of an audience and with pressure! This is a game we would usually play with other skating friends on a general session when not seriously training. I always loved it and was always pretty good at it.
Hmmm. I think more than pretty good.